Sacred What? The Glen Archer Story in a Nutshell
The Rev Gene Archer in paying tribute to his  brother  at a recent JTS chapel session described him as one characterized by a 'sacred stubbornness'. What he meant by this is that the younger Archer, Glen, was totally committed to the pursuit of excellence. For him mediocrity was no sign of spirituality. Along similar lines are the words of an Ardenne alumnus appearing in the Daily Observer of February 16:
A giant of man by any measure. I remember how strict you were during those first few months of Religious Education classes. After setting your standards of discipline, class was immensely enjoyable. Mr. Archer with the skits, stories and jokes made me question if this man was really a pastor. Despite being very religious himself, he encouraged debate and allowed us to question everything he taught. I am forever indebted to your tutelage. The national spelling bee trophy should be renamed in your honour. Rest well teach.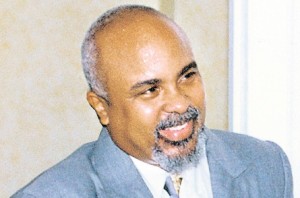 Teacher Archer was indeed a strange religious figure in that he never pastored a church, although he bore the title 'reverend' with dignity. Apart from the late Dr Cleve Grant who was, for a number years, popularly known for the noon day prayers on RJR, the Rev Glen Archer is the best known name associated with the Church of God movement in Jamaica. He was also a near permanent fixture at the Ardenne High School up until two and a half years ago when he began to suffer from renal failure. In his last TV interview he told a CVM reporter how he could have migrated to Canada, the new home of his elder brother, to rectify the medical problem but his love for country and his strong desire to make his mark toward nation building kept him in Jamaica. Such display of patriotism is seldom seen in recent years and deserves the accolades and recognition it deserves. At a time when we celebrate Reggae Month and also commemorate the achievements of people of colour the exploits of the Rev Glen Archer, like those of the late Father Hugh Sherlock, should be eulogized in perpetuity. Both men of the cloth were serious educators who had a passion to instill in their charges the need to show true respect for all, the drive to respond to duty's call, and the strength from above to protect and cherish the vulnerable among us. Rev Archer, like David of old, served his generation well and then he died. Unlike king David, himself an ancient archer, he did not leave a quiver full of biological children behind. Yet he was able to influence scores of Jamaican youngsters to take their place in society as nation builders and carriers of the kinds of values that will help fulfill the national vision of best practices in every stratum of our lived-experience. Throughout his suffering he never allowed himself the luxury of denying the existence of the God he served in Jesus Christ, as what appears to be the trend nowadays. His life was exemplary to the end; his soul will rest in peace.
This tribute was written by Dr. Delano Palmer, Deputy President, Jamaica Theological Seminary